Hannah R. Bell
Managing Partner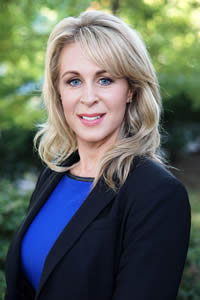 Hannah is local to the Lake Norman area, graduating from Mooresville High School. She went on to the University of North Carolina at Wilmington, graduating early in three years. She received her JD degree from Regent University School of Law in 2003. Hannah was a state prosecutor and is licensed to practice law in Virginia and North Carolina.
As a family law attorney, Hannah feels most comfortable in a courtroom and loves trial work and litigation. Hannah has helped many clients gain custody of their children, maximize their child support and spousal support, and give her clients their legal share of the marital estate. Hannah has family law experience in several counties and has tried divorce law cases in Mecklenburg, Iredell, Lincoln, Cabarrus, Union, and Gaston counties. Hannah also understands that some individuals would rather work out their family law issues outside of a courtroom. In addition to being a divorce trial lawyer, Hannah is also a North Carolina DRC Certified Family Financial Mediator.

Hannah prides herself in providing exceptional customer services to her clients and takes a select amount of cases. Hannah's clients are very important to her and her experience as a trial lawyer has helped propel her as a leading advocate in the greater Charlotte area and well-respected by her peers.

When asked what best defines Hannah as a family law practitioner, she said, "Every family in every case is different. It's my job to identify your goals and objectives and then determine the very best course of action for your individual situation. That may be negotiations with another attorney, mediation, or going to court to fight for your rights." In reference to her clients, Hannah was also asked how she feels about her family law clients and she said, " My clients are real people to me and not just case numbers. This distinguishes me from other lawyers who may treat every case the same. I want to help people and I have been blessed with the tools to do so."

Hannah is married to George Bell, and together they have three children: Cooper, Cate, and Madeline. When Hannah is not advocating for her clients, Hannah loves to dance to 80′s music, relax on any beach, and can devour a dozen Krispy Kreme doughnuts in one setting.